Copyright 2015 Fabdent Products & Services Pty Ltd Trustee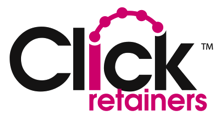 Click retainers offer as an option a subscriptipn service. For one low fee per year new retainers are deliverd direct to the patient when needed.
Compatible with most brands of Intra Oral Scanners. We can make Cick retainers direct from your scan!
Pressure formed retainer made from a unique patented material gives you the best fitting retainer bar none.
Your patients will usually need some form of retention for life, it's a bit like a tug o war on teeth!.
Click retainers tick all the boxes and offer the best most reliable and tolerated retention available.